Co prawda w ostatnich dniach pogoda trochę odpuściła (przynajmniej u nas temperatura spadła do "znośnej" i słońce nie pali), ale lato w zasadzie dopiero się zaczęło, więc temat aktualny 🙂
Po ostatniej wystawie w Olsztynie (kto był ten zrozumie) postanowiłam poszukać sposobów na chłodzenie psów w taki skwar. Oczywiście, jesli tylko jest to możliwe, to na pewno najefektywniejsze będzie pływanie i polegiwanie w zacienionym miejscu… ale nie zawsze tak się da niestety.
Zaznaczam, że jako, że przymierzamy się dopiero do zakupów, żadnej z tych rzeczy nie miałam niestety okazji wypróbować.
Koc chłodzący
czyli nic innego jak legowisko, które jest zimne.
Na rynku dostępnych jest sporo różnych wersji tego typu legowisk, jednak wszystkie działają na podobnej zasadzie: moczy się je w zimnej wodzie, co sprawia, ze trzymają one chłód nawet przez kilka dni (podobno). Zasada jest prosta: we wnętrzu takiego legowiska znajduje się wypełnienie pod postacią żelu lub wełny chłodzącej, które pozwala na utrzymanie niskiej temperatury.
Cena takich legowisk waha się od ok. 100zł (za rozmiar dla bardzo małego pieska) do 500zł (za wieksze rozmiary).
Czy mnie to przekonuje?
Jakoś trudno mi uwierzyć w to utrzymywanie temperatury przez kilka dni… ale ja jestem sceptyk 😉 Za to wydaje mi się to fajna opcja do położenia psu np. w samochodzie albo kennelu. Nie testowałam, póki co cena trochę mnie przeraża 😉
Obroże chłodzące
Taaaak…. też zrobiłam duże oczy 😉
Takie cudo istnieje i działa dokładnie na takiej samej zasadzie jak koce – jest wypełnione żelem, moczy i tadam! Pies ma komfort termiczy.
Niestety – to mnie nie przekonuje kompletnie. Na pewno nie na duży upał… i mam niejasne wrażenie, że to jednak na szyi ciąży 😉 W każdym razie ja bym na pewno takiego cuda nie kupiła 😉
Kamizelki chłodzące
Tu znowu gadżet, ktory mnie osobiście przekonuje – szczegolnie, że ktoś bardzo sobie (i psom!) chwali 😉
Wybór kamizelek jest szeroki – firmy, kolory, fasony. Działają na podobnej zasadzie jak wspomniane wyżej koce i obroże – również moczy się je w chłodnej wodzie i zakłada na grzbiet, ale nie ma w środku żelu, tylko chłodzi psa dzięki parującej wodzie. Można je znaleźć i w wersjach krótkich (czyli właściwa kamizelka) i długich – takich jak na zdjęciu powyżej.
Ceny? Różne. Hurttę znajdziecie już poniżej 200zł (nawet w tych dużych rozmiarach!), Ruffwear jest już droższy, ale wydaje mi się chyba wygodniejszy dla psa, no i estetyczniejszy 😉
Derki występują też w wersji moczonych i wykręcanych "kocykow" – ale to mnie nie przekonuje kompletnie, chyba, że jako chłodzenie psa który po prostu leży, bo w ruchu to na pewno poleci…
Miska chłodząca
To gadżet jak dla mnie całkiem fajny, acz niezwykle prosty 🙂 Miska wyposażona jest we wkład zrobiony z – a jakże – żelu, który wkładamy do zamrażarki. Żel oddaje później chłód, sprawiając że woda jest zimna, ale nie lodowata. Przynajmniej takie jest założenie.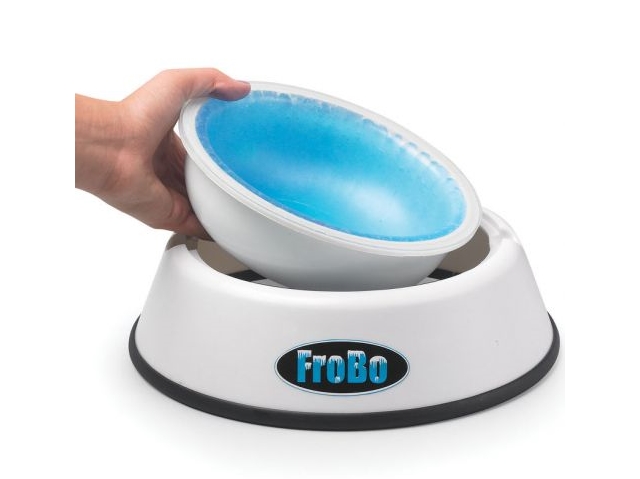 A Wy? Macie z tymi gadżetami jakieś doswiadczenia? Które byście polecili? A może są jeszcze jakieś ciekawe gadżety tego typu?